Hellos.com
What Is A Launch Page?
A Launch Page is a convenient, customized shtml file (or web page). You save it (or a shortcut to it) on the desktop or start/home screen on your computer, smartphone, or other device. When you click the icon for it, it launches your browser and takes you to a page with no ads, spies, distractions, or other clutter, just links to the places you like to go, and an image that you've picked out.
Desktop Version
Smart Phone Version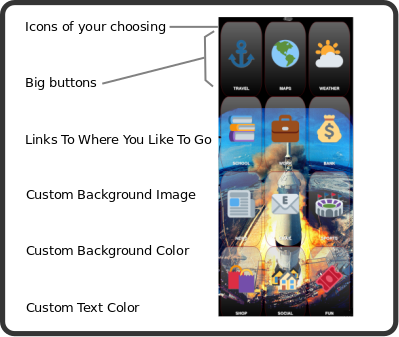 Benefits
Makes your browser work for you by creating your own home or start page that serves as your personal dashboard or internet portal.
Organizes all your bookmarks, feeds, files, and tasks in one place.
No distracting ads or sponsored 'content' so you can be more focused and productive.
Customize everything! Change colors, headlines, links, backgrounds, icons, and much more. Use your own photos, select from our gallery, or subscribe to our styling service.
Use our start page builder to make a test page right now! (open source, powered by javascript, none of your inputs leave your computer, so your privacy is secure). You can even disconnect from the internet while filling out the form!
OPTIONS:
Template forms for desktop/laptop or for hand-held device (you can do both)